Back on October 25, 2014, a group of twenty-two delegates from across the globe gathered in a downtown Vancouver hotel on a rainy Saturday morning to look at ways of starting a new organization focused upon a rare type of dementia – frontotemporal dementia (FTD). This included examining methods to enhance collaboration and the sharing of information, especially in the digital age. The group was there as part of The 9th International Conference on Frontotemporal Dementias. By the time the peer/advocacy meeting wrapped up, delegates agreed to a coordinated effort to have the first week of October recognized globally as "International FTD Week". Work thus set about to make this global initiative a reality.
October 25, 2014 – The 9th International Conference on Frontotemporal Dementias (Vancouver, BC, Canada)
In less than two years, all of that hard work paid off with the creation of World FTD United, an international group of organizations and health professionals who provide support for caregivers and all affected by FTD. World FTD United provides a forum for FTD caregiver organizations, FTD advocates and health professionals to communicate and share ideas. At present 15 countries are represented in the group: Argentina, Australia, Brazil, Canada, Columbia, France, India, Ireland, Italy, Germany, Spain, Switzerland, The Netherlands, United Kingdom and the U.S.A.
The goal of having a week dedicated to FTD awareness was successfully realized in 2016, with the first World FTD Awareness Week. This year, 2021, the event takes place from September 26 – October 3. It will be highlighted by the Global Conversation on FTD, a video presentation featuring persons diagnosed, care partners, health professionals, and researchers from around the world (available at www.WorldFTDUnited.net). Participants will be talking about how FTD has affected them – as well as some of the reasons they have hope for a future free of FTD.
Looking back to that rainy October day nearly seven years ago, I am filled with much reminiscence. During this year's World FTD Awareness Week, I have challenged myself to identify the one word which sums up all that I have learned over the course of our family's dementia journey. For me, that word is gratitude.
I was 44 at the time and had just been thrust into the world of dementia. My dear wife Lisa had been diagnosed with behavioral variant FTD back in January 2013 at the tender age of 43. A mere two months later, she had to be placed into long-term care, a place where she continues to reside. At the time of diagnosis, our children were aged 12, 10, and 8. Looking back to this time, it's shocking to think that I had literally become both a single parent and a care partner overnight! I remember being fearful of what lay ahead. With three young children, I had no alternative but to embrace Lisa's diagnosis and deal with whatever this wretched disease brought.
The early years of dementia proved to be a time filled with much upheaval and toil in both my faith and spiritual life. I never blamed God or shouted at Him, "Why Lisa?" I did, however, call out to Him to show His presence to me and make Himself known in this vast sea of desolation. I knew I could never navigate this journey alone – I needed divine intervention if I was ever going to see light in what was a most darkened and despairing situation. In short, my faith got put to the test – either I was going to abandon all of my Catholic beliefs and handle this on my own, or, I was going to learn to "Let go and let God." I chose the latter.
One of the most profound lessons I learned concerned false humility. While I prayed that a cure to FTD might be found (and thus spare Lisa from this degenerative disease's terminal outcome), I was instead overwhelmed by the outpouring of support to assist our family. I did not know how to handle this and was internally conflicted. The Lord had clearly made Himself known in the kind, generous acts of others. Why should I have been surprised? Had I forgotten what was written in Matthew's gospel (Mt. 25:31-46)?
Looking back, I am beyond grateful that I put my pride aside and said "yes" to all those who wanted to help our family. Subsequently, countless deliveries of food, baked goods, gift cards, entertainment and sporting passes entered our home, not to mention the numerous emails and calls of support from family and friends. Endless offers to drive the children to sporting events never ceased. For me, where once there had been total darkness, light was slowly beginning to emerge.
All these years later, as I reflect upon my own dementia journey and my involvement in that day's meeting in Vancouver, I am extremely proud of all that World FTD United has accomplished. This annual week, dedicated to FTD awareness, has led me to see that something so tragic can actually be celebrated. For this, I am eternally grateful.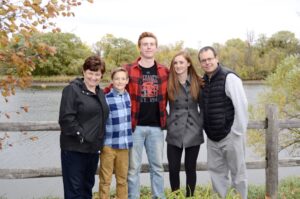 Matthew Dineen
Member, Dementia Advocacy Canada
November 2021