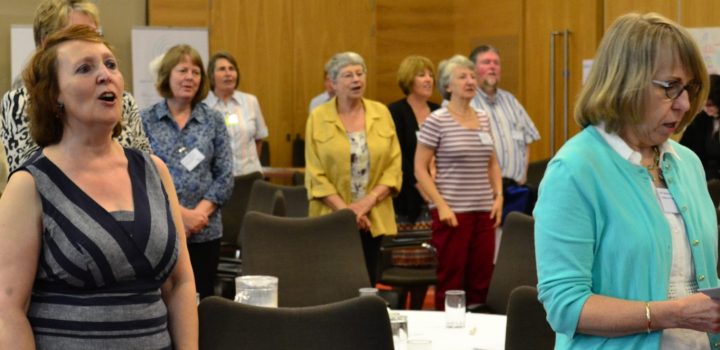 Society is much more aware of dementia and the impact that it has on individuals, families and friends and there are strong movements to ensure that our communities are or should become dementia friendly.  This has been looked at in relation to the communities in which we live but Faith in Older People (FiOP) wants to ensure that this is particularly related to our faith communities which play a vital part in the lives of many older people.
We know that congregations are welcoming to those who are experiencing dementia but we want to support them in further developing the way in which everyone is included and able to participate in worship, prayer and the social aspects of belonging to a faith community.
The aim of our project is to encourage people to talk about dementia and their understanding of what it is as it often feels a bit frightening and people become anxious about knowing what to do or say around those who have dementia.  We want people to become aware of the issues and to think about the practical steps that could be taken. To raise the questions that need to be answered and to overcome any fears about communicating; coping with the changes in an individual; enabling people to continue to contribute and to find out how it is affecting those who are caring for them.
We have taken as the basis for our work the framework created by the Joseph Rowntree Foundation. This looks at:
Place: How does the physical environment support people with dementia?  Signage, lighting, flooring.
People: How does the congregation respond to the needs of people with dementia and what support is available.
Networks: How do you plan and collaborate?
Resources: Are there sufficient services, facilities and resources available?
FiOP wants to draw on the excellent work that has been done to date by several organisations and to bring it together to form a guide which sets out steps to be taken to develop a dementia enabling environment.  This approach takes into account the capacity of the individuals within the community and the members of the congregation to respond to the identified needs.  The guide is intended to be practical and sympathetic and part of our consultation will be how it could be best presented, hard copy or on-line or a mixture so that it is easily accessible and used on a regular basis.
The intention is to pilot the approach to make sure that it fits what different congregations need.  We can evolve the approach over time and would be pleased to have the opportunity to visit different congregations or to hold seminars either individually, on an ecumenical or multi-faith basis.  We need to share our ideas and progress so that people with dementia can remain within their faith community enjoying the friendship, routines and rituals which have meant so much to them.
The project will also be looking at how we can use IT effectively to bring the church to the person if they cannot attend; to consider how worship can be adapted to suit the needs of someone with dementia and how can we support our pastoral visitors to be skilled, confident and comfortable about visiting people in their own home or in a care home.
Taking as our focus the individual with dementia, the aim is to build an enabling community around them.
For further information or to arrange a visit please contact Maureen O'Neill, Director, Faith in Older People, email: director@fiop.org.uk.