For many people, the time we are living in is very challenging, frustrating, and bleak.  I was reminded of an international conference which FiOP was pleased to organise some years ago.  We planned an activity in which everyone could participate in the creation of a quilt depicting the tree of life.  The quilt embodied creativity, companionship, and change.  It also represents continuity as the quilt now moves from one international conference on spirituality and ageing to the next.
Trees, with their constantly changing colours in autumn bring to mind the circle of life and a sense of hope.  The beautiful leaves will eventually fall, and the trees will be left bare. This is perhaps how many people see their life at the moment if they are without family and friends, not joining in and feeling needed nor feeling energised to do something new.
Perhaps thinking about the seasons will provide an opportunity to use different ways of thinking about change – the glory of autumn, the starkness of winter, the growth in spring and the sunshine of summer with each season bringing a sense of hope; a time to reflect on past achievements; a fulfilled life or to express sadness at things unfinished.
"Winter, while dark and cold, and sometimes hazardous, is also a time of hibernation for recharging us. Outwardly it looks like not much is happening, and inwardly we might feel we have become sluggish, uncreative, and dull. But almost secretly winter works away in and around us as a time of germination, so that with the spring new shoots appear. Winter is a good metaphor for helping us through bleak times; the cold, bleak and seemingly lifeless season is necessary for bringing forth possibilities that we had not even imagined" (Harriet Harris; Maureen O'Neill 2016 Retreats).
With trees in mind these images bring warmth and hope for change and growth.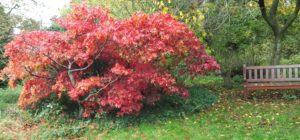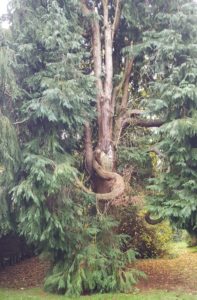 The blazing bush is in the garden of Peace and Friendship at Vogrie Country Park and the crooked tree is a good metaphor for our tangled times, but we keep growing and adapting.
Maureen O'Neill
Director, Faith in Older People
26.10.2020